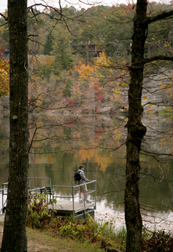 Offers a naturalist guided hike. Hike half of the Pennyrile Nature Trail for a fee. This registration fee includes: transportation, bottle of water, snack and Pennyrile Forest State Resort Park patch. Registered participants also get a 10% discount off park lodging. Trail is 6 miles and is rated difficult.
Contact: Becky Clark (270) 797-3421 or email: RebeccaE.Clark@ky.gov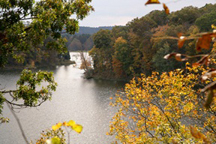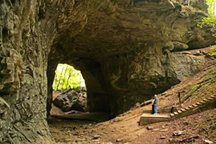 7.5 mile loop excursion is on moderately difficult terrain. Highlights are a swinging bridge, views of secluded Smoky Lake adn a passage through Shangra La Arch. Come during the fall and see the fall foliage. Required equipment includes: sack lunch, good hiking boots, several bottles of water and a backpack to carry your equipment. Fee includes guided hike, walking stick and a Carter Caves walking stick medallion. Approximately 7.5 miles and 5-6 hours in length.
Contact: Coy Ainsley (606) 286-4411 or email: coy.ainsley@ky.gov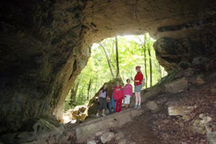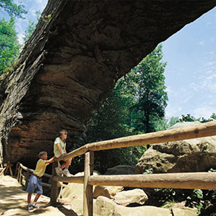 Hike through Kentucky's Land of Arches. Guided hike leads through the rugged cliff lines, rock shelters, rhododendron and natural arches. Each trip is a little different. Distances vary from 6 to 12 miles. Fee includes guide, snacks and a Natural Bridge souvenir.
Contact: Brian Gasdorf (606) 663-2214 or email: brian.gasdorf@ky.gov